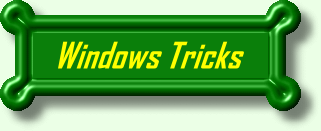 To all you Windows 95 users, here is the page I told you about in my homepage. Below is a list of all the hacks that I have, as well as links to the files I used to make the list.
Available Hacks
Add file types to the New submenu on the mouse menu.
Icons from the Actual Bitmaps
Change Name / Location of Folders
Change the Size and Spacing of Desktop Icons
Changing the My Computer or Recycle Bin icon
Change your MTU settings for Win95 slip
Make an Open New Folder Context Entry
Logitech Mouse tip
Change your 3D-objects (Highlights and Shadows)
Modifying Windows 95's TCP/IP Packet Size
Speed up the Windows Refresh rate
Getting Rid of the Shortcut Arrows
Real short filenames (remove ~? from filenames)
Reduce the Start/Run Drop Down List
What you need to know to edit the Recycle Bin
Getting Rid of the Inbox Icon
Add the 'Open DOS Box' option (folders/files)
Add the 'Edit with Notepad' option (files)
NumLock fix.
Restrictions in Multi-user-systems
Editing the Windows TIPS at start-up
Turn Off the Documents Menu
Turning off the Exploding Windows Animation
Change the Desktop Folders Default.Icon
Removing unwanted items from the Desktop
Change the Desktop's default folder
Edit essential folders
If an application cannot find it's Help File
Speed up the Start-Menu!
My city isn't on the time zone map!!!
Adding sounds to application events
Screen Power on Your Schedule (Energy Star-compatible monitors)
Retrieve Your Windows CD's ID (if you lose it)
Beef Up Your Start Menu
Make the Most of 'My Computer'
Relocate or Revamp the Recycle Bin
Nix Network Neighborhood
Instant URLs
Print Complete Directory Listings
Stop Automatic Registry Restores (edit .reg files with a double-click)
Make 'Open With . . . Notepad' First Choice
Create New Files More Quickly (remove unwanted entries from the New context menu)
Edit, Don't Run, .bat Files with a Double-Click
Use Run to Quick-Start Your Programs
Add Internet Explorer History to the Start Menu
Choose which file you would like to download:
Win95 Registry Hacks document (15,872 bytes)
All Win95 Hack documents (474,231 bytes)
Enjoy!
---
Copyright © 2002-2023, Remy. All Rights Reserved.
This page has been viewed 155 times since March 06, 2021